Let us take care of your cooling system, so you can take care of your business.
Monar AC is the leading heating, ventilation, and air conditioning (HVAC) company for commercial services in the Coral Springs area. We are here to help you with all your commercial cooling needs—installation and replacement, repairs, and maintenance.
Our commercial professionals are highly qualified and trained for all commercial cooling scenarios. We can service all makes and models of commercial cooling systems, and our company always strives to remain the best in the HVAC field.
Commercial Cooling Installation and Replacement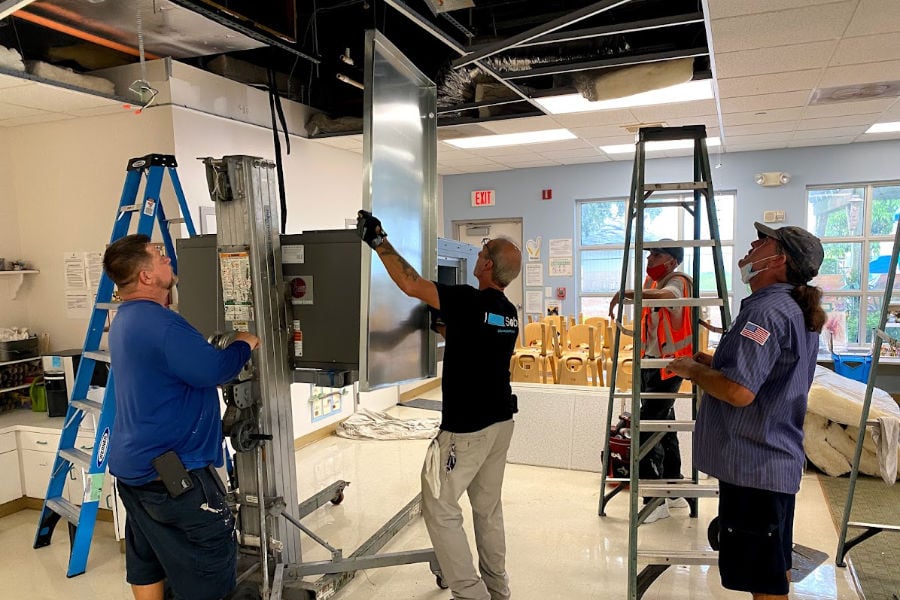 When your cooling system has called it quits, you need the top commercial professionals who can design and install the most energy-efficient system for your business. Monar AC is that company.
We understand replacing a commercial cooling system is an investment in your FL business, and we don't take that lightly. Our goal is to help you succeed. Installing the best cooling system for your needs is one way we can help, as we only work with the top systems in the industry.
Keeping your employees, customers, and occupants comfortable while they are in your building is a top priority. And you require the optimal system for this job.
Installing a full replacement or a retrofit can disrupt your company's business flow. But our commercial professionals are experts at getting in and getting out without a lot of fuss. Whether your system is an indoors or outdoors system, we have the expertise to get you back where you want to be—in the comfort zone.
We will work with you to find the most energy-efficient and cost-effective system for your business. No matter what type of cooling you need, our commercial team of experts is here to get it for you.
Our team can also help you figure out the right level of financing for your company. Talk to us for details.
Commercial Cooling Repairs
On the other hand, sometimes you only need a repair. Your cooling system isn't cooling at full capacity or perhaps it's making unusual noises. Our expert team of professionals will expeditiously diagnose and then make the required repair. We know when employees, customers, and occupants are overheated, business as usual is not usual.
We highly recommend contacting our Monar AC team as soon as you notice a problem. Waiting to address the issue typically only makes it worse—bigger and more costly. Let us take care of it as soon as it starts, and we can return your system to its regular operations.
As with an installation, our trained and knowledgeable professionals work efficiently in the background to avoid disturbing your daily workflow. In most cases, we can quickly make your repair the same day, whether it's an indoors or outdoors system.
If you require emergency service, we are here 24/7 for you. Emergency scenarios can happen at inconvenient times, so call us with your cooling emergency at any time.
Commercial Cooling Maintenance
Keeping up with routine professional preventative maintenance on your commercial cooling system is just smart business. It keeps your system operating at its highest efficiency, resulting in lower energy bills.
Preventative maintenance also prevents unexpected costly repairs and promotes a longer system life span, as well as keeps you in compliance with your manufacturer's warranty.
Investing in our commercial preventative maintenance program pays for itself over the years with all the benefits it offers. Call and talk with one of our friendly team members for more information.
Contact Us Today for All Your Commercial Cooling Needs
We would love to talk to you today at 954-650-1930 about your Coral Springs, FL, commercial cooling needs. Contact our Monar AC team by phone or request service online. We are waiting to hear from you today.
On a sweltering Florida day, a comfortable work environment makes all the difference. It creates a welcoming space for customers and encourages employees to do their best work.
All of this is possible because of your commercial air conditioning (AC) equipment.
How Our Experts Can Help
At Monar AC, our team of heating, ventilation, and air conditioning (HVAC) specialists bring years of expertise in heating, cooling, and indoor air quality (IAQ) to every service call.
As a Coral Springs company, we know a lot of time, energy, and sweat goes into running a business. We always keep that in mind, so we're sure to look after your air conditioning needs promptly and professionally. That way, you can stay productive.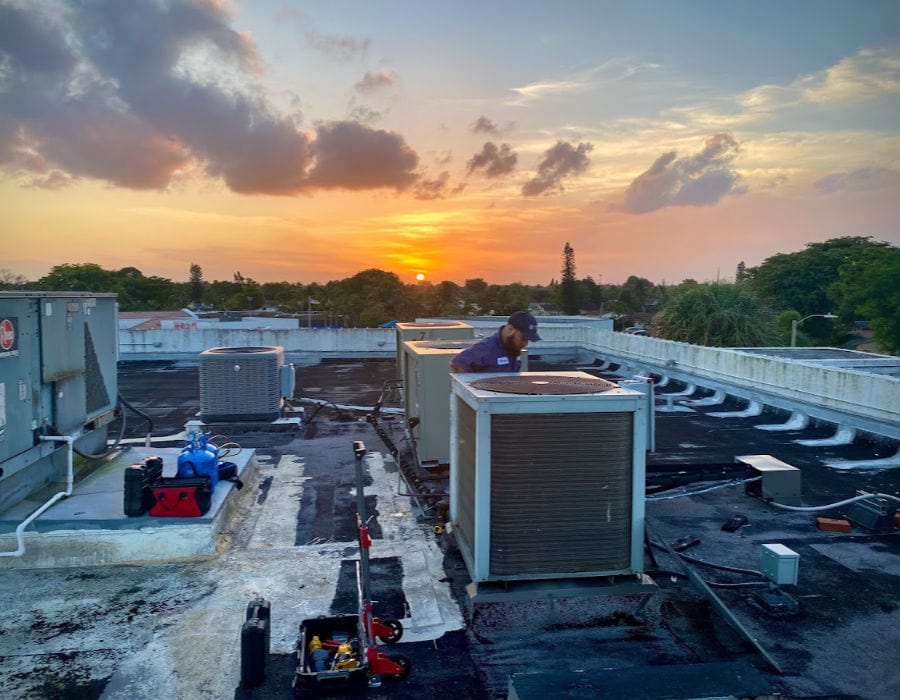 Cooling: Can There Be Too Much of a Good Thing?
ENERGY STAR® discovered a problem impacting a startling number of U.S. businesses. Nearly 25 percent are operating with an oversized rooftop HVAC unit. That means one in four owners is losing unnecessary money on energy bills.
Oversized commercial air conditioning units are bad for business. First, they require a significant amount of electricity. Second, they run in frequent, short cycles that reduce the lifespan of your equipment.
Finally, they are notoriously bad at regulating humidity. High humidity leads to mold growth that can damage furniture, walls, and floors.
How Do I Know if My Rooftop HVAC is Improperly Sized?
Excellent question! A Monar AC professional can perform an energy audit on your business. They will use thermal technology, perform tests and use algorithms to ensure you get the most value from your HVAC system.
Even if your system is sized correctly, this can be a great tool to find other ways to save money. Our experts can identify and correct common efficiency issues like ductwork leaks, drafty spots, and poor thermostat placement.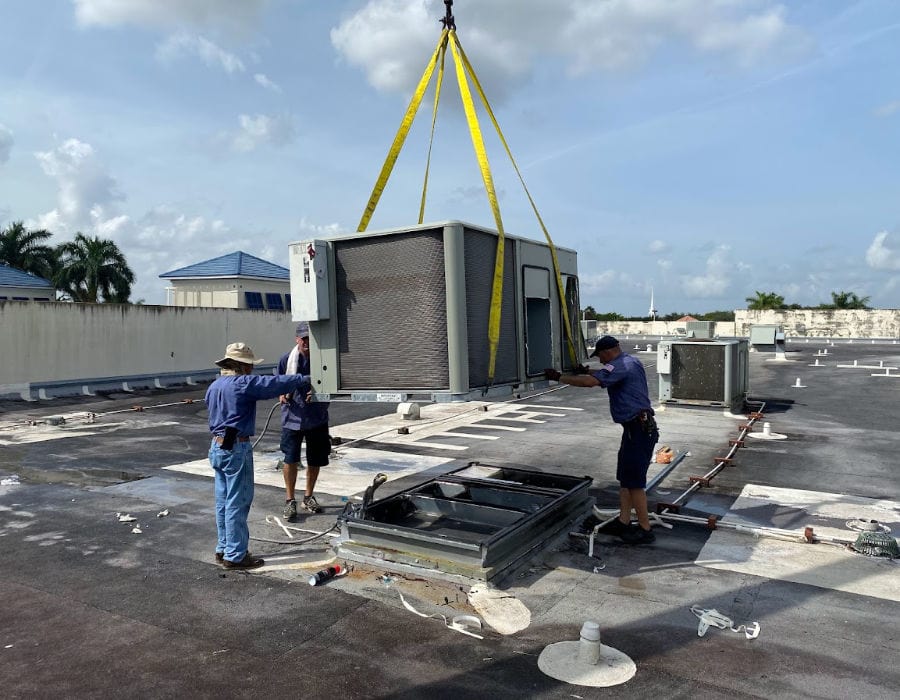 Commercial Cooling Installation and Replacement
Need a new cooling system? We have a team ready to make it happen. Our experts will assist you through every step of the process. We'll collaborate with you on a plan, installing a product that fits your budget and needs.
When Should I Order a Replacement? 
The average commercial HVAC cooler lasts 15 to 20 years. Different factors can impact the service life of your equipment. For instance, adequately sized equipment that receives seasonal maintenance lasts longer than mismatched or neglected equipment.
When your cooling system is ready to be replaced, you may notice:
Spotty cooling or humidity
Higher utility bills
A constant need for repairs
As the mechanical components wear down, they require more electricity to produce the same amount of cooling. This can drive up your monthly bills. Tack on repair costs, and you learn that hanging onto an outdated cooling unit can become expensive. In this case, it's usually cost-effective to order a replacement.
Feeling conflicted? Talk to your Monar AC specialist. We can perform calculations to help you determine the most economical way forward. Whether it's a repair or replacement—we'll always provide a fair and accurate estimate before you commit.
Need a Brand New System? 
Are you planning a new construction project? We can design the perfect cooling solution. Our team regularly joins forces with architects and building contractors on commercial projects. Call us today to discuss your plans—we'll provide a fair quote. We're ready to lend our expertise to your next development.
We offer flexible financing that makes it easy for you to purchase the HVAC equipment your building deserves.
Commercial Cooling Repair
A broken air conditioning unit can place a serious hurdle in your workday. Luckily, our team of experts is just down the road when you need us. As Coral Springs business owners, we know how important it is to stay on track. Our specialists will show up promptly to diagnose and treat your cooling system—your staff and customers always remain our top priority.
When Should I Call for Repair? 
Keep an eye (and ear) on your air conditioner. Generally, it's best to catch issues as early as possible—better safe than sorry.
Common symptoms of a broken AC include:
Odd noises or smells
Frozen coils or "freeze-ups"
Blowing hot air or not turning on
Not sure what's going on with your AC? Give us a call and describe the problem. We're more than happy to assist. Our friendly crew members make the process as simple and transparent as possible.
Did something break on the weekend or a holiday? No problem. Our team is available 24/7 throughout the year to keep your business running.
Commercial Cooling Maintenance
Cooling your business is no small feat for your air conditioner. Seasonal maintenance is the way to go. It protects from unwanted repairs, increases energy efficiency, and extends the lifespan of your equipment. Additionally, many commercial HVAC units require regular maintenance to keep the warranty.
In addition to professional maintenance, remember to replace your air filter once a month. A clean filter will save you up to 15 percent on your energy bill, according to the U.S. Department of Energy (DOE).
We recommend scheduling your AC checkups each spring. This assures your cooling equipment is primed for the summer. Plus, you'll know everything is up to code before running it.
Important maintenance tasks include:
Cleaning the coils, fins, and condensate drain
Testing refrigerant levels
Looking for damaged parts and replacing them
Optimizing airflow
Be sure to ask about our customized Monar Maintenance Program designed to save you money on parts, labor, and repairs. We tailor these plans to fit your specific needs.
We're a Commercial HVAC Crew You Can Depend On—Call Today!
Our professionals at Monar AC have all your heating and cooling requirements covered. Call our Coral Springs, FL, office today at 954-650-1930 or request service online.